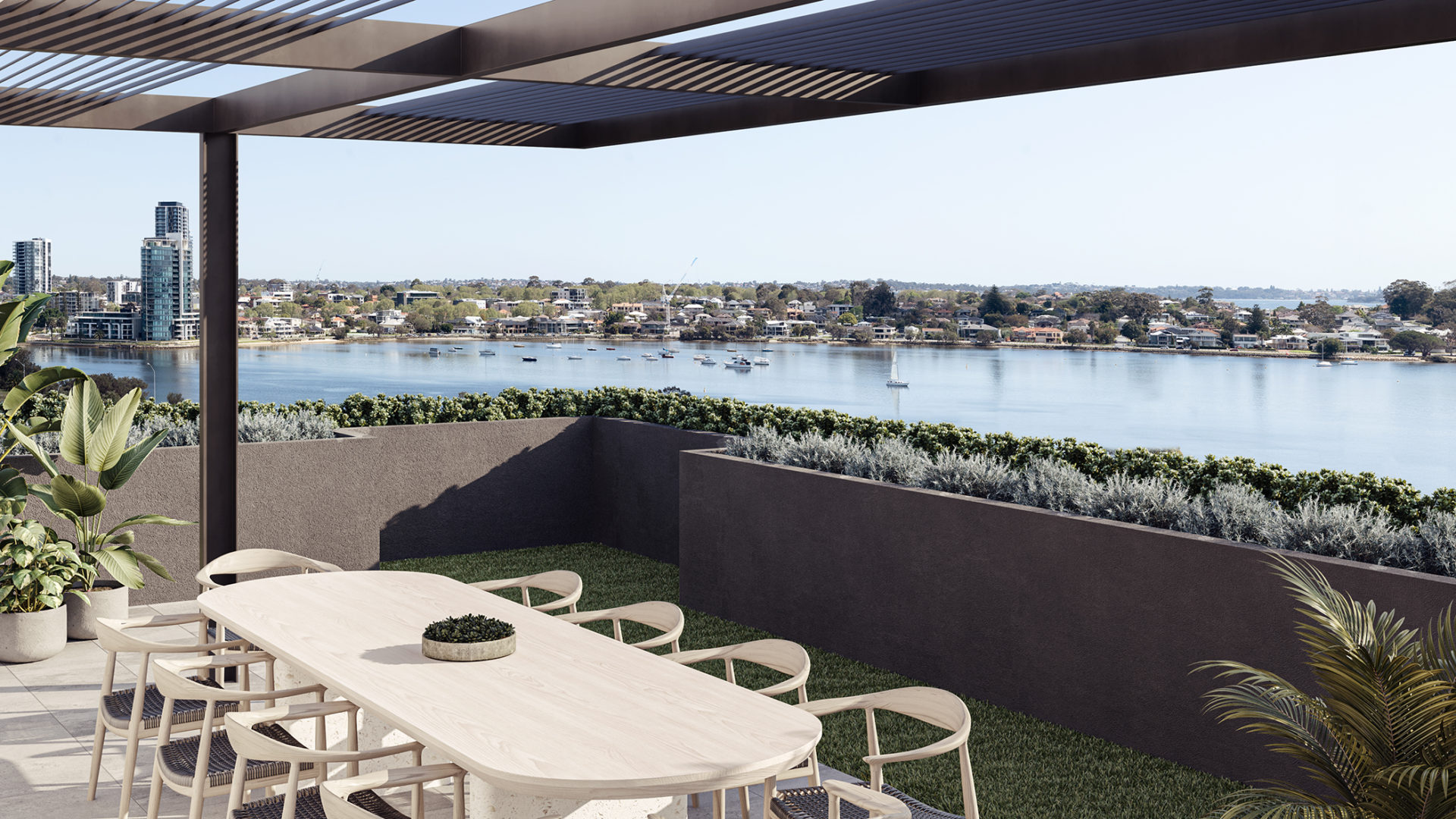 Artist's Impression
7 Reasons To Downsize To An Apartment
When less really does mean more
Let's face it, when you were starting your family, owning your own home was your dream. But over the years, you've come to realise that the dream of freestanding house on the traditional quarter acre block, means a lot of hard work.
There's the garden to maintain, and sometimes a pool. Not to mention the general upkeep of that brick three-bedder, two-bath family dwelling.
Now the kids have moved out, here are 7 reasons to downsize before your dream turns into a nightmare.
1. Less maintenance and upkeep
Weekends are a time to relax and recuperate. Maybe catch up with friends and family over a barbeque. Or sit in warm spot with a good book. After all, who wants to spend the weekend mowing lawns, pulling weeds or sweeping out the cobwebs? When you downsize to an apartment, all these niggly outdoor jobs are usually covered in your annual strata fees. You get to enjoy the communal outdoor areas, without having to break your back to keep them looking great.
2. Safe and sound
Most apartment complexes come with their own security systems as standard. This might include:
secure-access gates
motion sensor lighting
CCTV cameras
security guards
alarm systems
This means you feel safe and sound at night, or when alone at home. Downsizing to an apartment gives you peace of mind. You will sleep well knowing you and your home are protected.
3. Lock-up-and-leave lifestyle
For many of us, booking a holiday also means trying to find someone to stay in our home, or at least drop by to water plants, collect mail and make it look like your house is being lived in.
But with the security systems mentioned above, if you downsize to an apartment, you can lock up and leave for your next adventure without a care in the world.
4. Save money on utilities
Not having a garden means you can save on your water bills, while living in a smaller footprint means less area to heat and cool, so you save on your power bills as well. If you hang quality curtains or blinds the heating and cooling will be even cheaper and more effective. You will soon realise how much money you'll save when you downsize your home. And you can use all that extra disposable income for those care-free holidays!
5. Location, location, location
If you've been living in your family home in the suburbs for a while, you deserve to treat yourself to luxurious living with river views and a central location. Enjoy a shorter commute so you have more time to do the things you love, with the people you love. And with everything you need right at your doorstep, you'll be happy to keep the car in the garage and walk to shops, restaurants, facilities and parks.
6. Make a fresh start
If you are downsizing your home and moving into an apartment, you might be able to release some equity for new furnishings, white goods and wall art. Sell your old furniture and invest in some new (or check out marketplace listings and find a bargain). Replace your inefficient old fridge, washing machine and dryer for newer, energy efficient models and save even more on your utilities. Create your new oasis from scratch and enjoy the lifestyle you deserve. Let's face it, that old, worn couch won't suit your new modernist interior anyway.
7. Premium facilities
Could you imagine the cost of owning a house with an entertaining area overlooking the Swan River? How about a state-of-the-art fitness centre and cinema in your home? All of these premium facilities and more are included in Henley Rise and more. Landscaped gardens, a business centre, and a residents lounge are all yours to enjoy, without the cost or hassle of upkeep.
What are you waiting for?
If you are looking for a fresh start in a downsized home, apartment living has you covered. Enjoy an enviable lifestyle with more time to do the things you love, and less worry about upkeep, security and the cost of utilities.
There is no downside to downsizing.
Contact us at Henley Rise today to find out more.